8 Best board games for adults
Adult life is full of fun! One thing you sure cannot take away from adults is their excitement and joy for entertainment and knowledge acquisition when they play.
Play is a great way to improve adults' lifespan, and this is the reason why board games for adults are not just random activities that should be enjoyed occasionally or when nothing is exciting to do. Playing board games for adults is endless fun that should be regularly engaged in.
Truth is, a board game for adults is a fantastic way to spend time with friends, and family and make new social connections while strengthening your cognitive domains equally.
In this article, we discuss the number one board game for adults, and how to get the best of fun playing them.
What is a good board game for adults to play?
There are certain core elements of a good board game for adults. These elements when not found in any board game for adults defeat the purpose of the board games. They are:
1. Concept, depth, and elements
A good board game should be visually appealing and have high-quality concepts, a depth that makes thematic sense, and elements that get players glued to it until the end.
The players interact with the game elements in unique and understandable ways. With any of these three features in a board game, it will be much easier for you to immerse in it, enjoy its gameplay, and have fun.
2. Profound, significant decisions.
Every good board game needs a clear objective. It should be at the top of the rulebook. The outcome of a board game is determined by the player's decisions, and board games are designed as a sequence of options.
There must be a lot of choices and possibilities in the game, all of which have equal importance.
3. The excitement is greatly increased, but only to a limited extent, by the addition of suspense, drama, or an unpredictable element.
Every good board game needs to integrate a random element in a challenging strategic game of open information to create memorable moments.
This can be done by providing random event cards, a weighted dice roll to decide the outcome of a fight or encounter, and other methods.
To make it more fun, playing good board games like these games arouses excitement, limits inertia, gives surprises, and encourages players to master it over time.
4. Mechanisms in games should promote interaction
When playing a board game with others, you want to be out there competing for spaces on the board, trash-talking, haggling, assisting, hindering, and mingling. Through game mechanics, the best board games can elicit this.
Boom Again is a perfect example of a game with a complex player turn that can last ten minutes but gets you racking your brain for answers because of its fun and complex questions from the 50s and 60s down to the 80s.
A good board game makes the experience with others more enjoyable. Board games are perfect for special occasions.
Whenever you are with your friends, you would only later realize that you have played games like Boom Again hundreds of times, asking questions from the past, arguing intelligently over answers given, and taking bonuses over their wrong answers. This makes it a good board game for adults to play.
What is the most fun board game to play?
Most fun board games for adults are the kinds that you can play with two or more people or even enjoy playing at a party as a best party board game like these is best played in larger groups.
These board games below would take you to any height of fun anytime and anywhere. Here are our recommendations for a good board game for adults to play.
1. Boom Again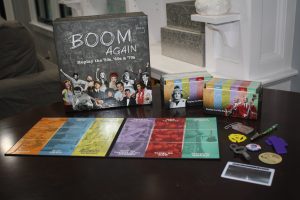 Let's begin with our number one and highly recommended board game: "Boom Again, The pop culture trivia game that brings the era to life…" Unlike every other board game that came before, and, after it, Boom Again is a unique board game with more than 2,200 questions and answers focused on the 1950s, 1960s, and 1970s. It will spark a lot of fun and revealing conversations not just between and among Adults, but also with younger generations.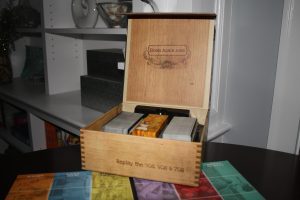 Boom Again is a board game in which you and your fellow players can take time to reminisce and take your time racking your brain for answers. Adults love to hang out together. Boom Again is the new game that lets you reconnect with your friends.
What more can you ask for in a board game? This game set includes a cigar box package and tactile tokens that deliver smiles and laughter; a board game that takes people on a nostalgic journey of their youth.
Every adult wants that kind of board game that comes with authentic touchstones from the era. Here it is! You get to use a "cigar box" to stash their prized possessions. So much fun.
Teams alternate turns and try to tug the fantastic tokens off the board. The first team to collect three tokens wins.
If you're an older soul but a younger adult, you'll enjoy Boom Again because it's about a Boomer who sings along to his parent's favorite songs and watches his favorite sitcoms.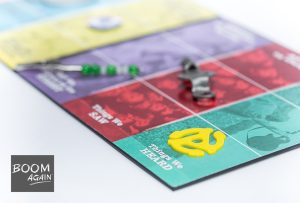 Also. if you fall into the category of 'Younger generations', think about it… what better ways can you think of your parents to have a good time other than buying them such an exciting game like Boom Again, and by giving them a chance to tell stories?
2. Gloomhaven
Gloomhave, a game where you "play with the jaws of the Lion," is another entertaining board game for adults.
The Gloomhaven game for adults is fun. A brief explanation of the adult appeal of this board game and instructions for playing it would encourage you to get a copy and begin playing. Let's get going!
Gloomhaven is a board game for one player to four players that takes place in a grim high fantasy world. Players control characters using a deck of cards and are incentivized to switch characters every time they complete a personal goal.
This game is a persistent world where every decision you make affects the setting and opens up new story threads. You can play it solo or with other groups of people to create a massive narrative.
What's more fun? The core game features 17 classes, 18 miniatures, and 47 monsters. If you have a 3D printer, you can replace the standees with miniatures, and the world is well described.
Also, You can discuss tactics with your teammates, but you must speak in general terms. The game simulates the chaos of battle while still letting you work effectively with your party.
When starting a new game, read the rules thoroughly, but don't try to have the exact answer to every question. Instead, agree on a house rule and continue the game. The rules of this board game are sorted, and you need to choose your starting characters.
The game becomes easier the more characters you control, and the best way to play the game is with four characters. There are different steps before starting a game, such as setting up the decks, choosing the characters, and then starting your campaign from the first scenario.
A good way to organize all components before starting a game is to use an organizer.
And as if that's not enough, In the first round, there is almost always a monster ready to prey on you. Their abilities vary depending on their card and can buff allies or hinder enemies.
The further rounds are all similar to the first one, and you can replay any failed mission without any consequence. You can also read what you have accomplished and prepare for the next scenario.
The Gloomhaven board game for the adult scenario system is interesting, as you have to stick stickers to the map to unlock new places to go. However, it makes it hard to remember why a certain place is open.
3. Carcassonne
It's time to catch crazy fun in the countryside… Have you any adults yet to play Carcassonne? Then, he/she is missing out big time! Let me explain why.
As of 2014, the Carcassonne board is among the games for adults including two mini-expansions, The River and The Abbott. The River gives you a selection of tiles to start with, and The Abbott gives you a point for every tile the abbot is touching.
Carcassonne sees one player, two players, to five players compete to earn points to be the winner of the game. Players place tiles to adjoining laid tiles, making sure that any features fit together like a puzzle, and then place meeples on fields or monasteries to score points.
Carcassonne's fun board game for adults feels like a gentle stroll through the French countryside, but the game can get meatier if you choose to share cities and attempt to steal them from other players. This board game is simple to learn but deep game, with a calm pace allowing for conversation.
It scales well from two to more adult players and is a classic game that most ages will understand and be able to compete at. Carcassonne is one of the great games to play with adults who don't play strategy board games, as it is easy to learn and pick up, and has a good strategy.
On the other hand, the board game is one of the games that mix up the decisions players can make by adding in a river. You can purchase additional expansion sets that build upon the core game.
Carcassonne is a fantastic best drawing board game for adults that has left its mark on the gaming world. Be on the lookout…Carcassonne may become one of your favorite whole family games and can be played by anyone, even five-year-old Lex. It balances so well and is a great introduction to modern best board games.
A very crucial benefit of this board game is that either with two teams or more, it is excellent for reducing stress and makes for laughter amidst the funfilled tension and quest to win.
5. Splendor
Who's ready to build Renaissance Europe's most lucrative and prestigious jewelry business? If you are up to the challenge, then get on board the Splendour board game.
Splendor is a gorgeous and classic board game, beautifully crafted, and looks great on the table. It's profoundly accessible and the set-up and take-down time is measured in seconds.
Splendor board game for adults is a board game of building an empire of gemstone cards, which you pay for using gemstones. It's an all-gem economy, and the satisfying thrill is the way things build – every card you buy makes it easier to buy things in the future.
This board game is one of the greatest board games with a custom inlay to keep its components perfectly organized. It comes with custom poker chips to represent the gems, which are a deeply pleasing touch.
This board game is a card game where you have to buy cards with gem poker chips. Each card has three key pieces of information: the number of gems you need to buy, the type of gem it will add to your collection, and its point value.
On your turn, you can buy cards with poker chip gems, add cards to your collection, or reserve cards for a future turn. The reason the game snowballs is that every card you buy increases your spending power on future turns. You top it up by using gem poker chips.
At the start of the game, you have nothing, so you have to pick up gem poker chips to buy one of the play cards.
The reserve action is a great way to guarantee yourself the card you want and to get gold poker chips. When you get to a point where you can afford higher-tier cards, you should already be planning to buy those cards, and ensure that someone else doesn't get there first.
Splendor is a game of strategy and luck, played with three small piles of cards and some poker chips. For adults, It takes less than an hour to play, and the game builds to a big conclusion before outstaying its welcome.
Splendor has fantastic card art and a nice style. The game doesn't require intense concentration to play, and the box front isn't scary.
6. Spirit Island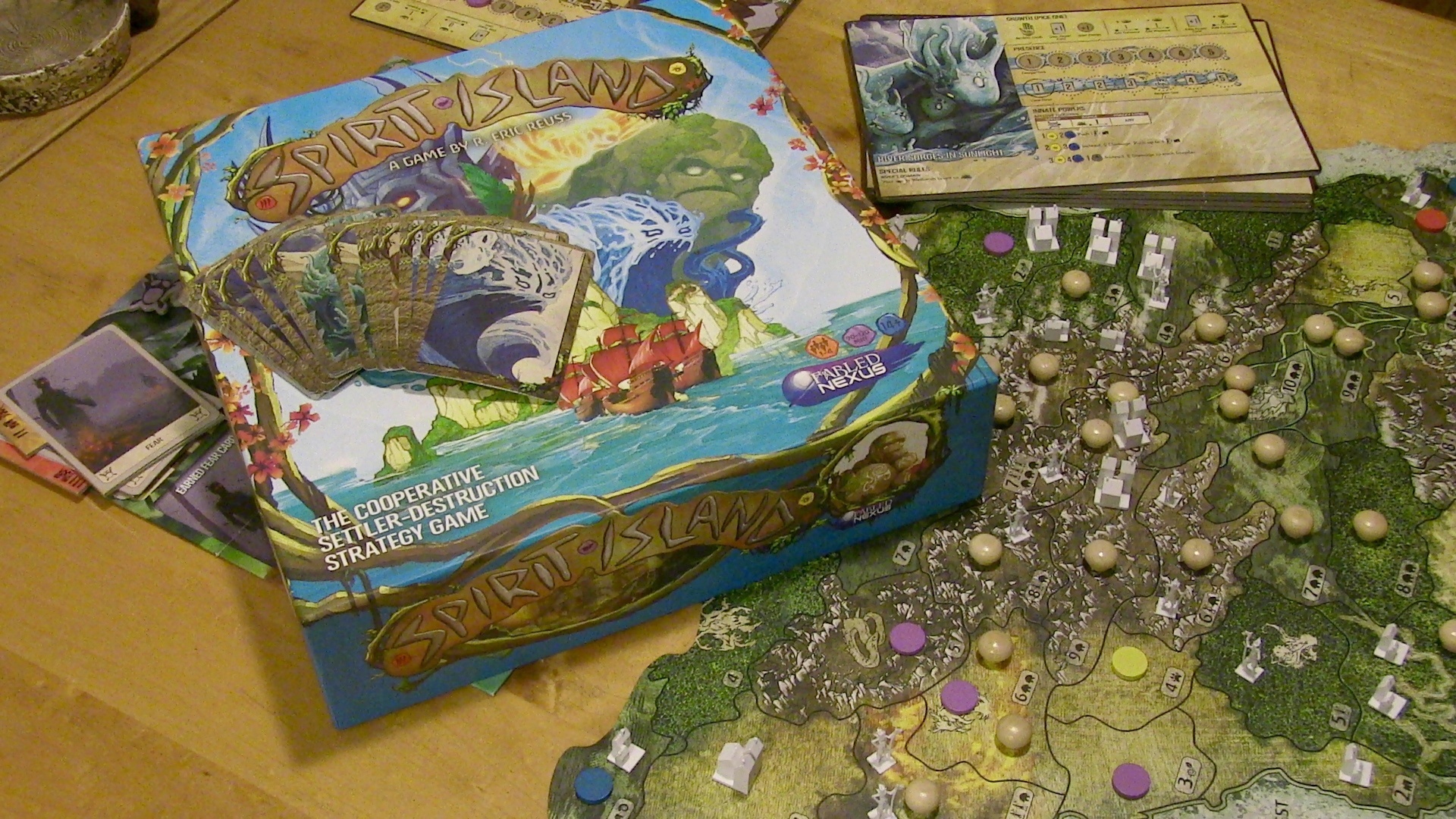 Here is one of the adult board games where you play in two teams or more, and can expand your range by spreading your influence across the land, increasing the number of powers you can play per turn, and upping your energy production with quality time.
Spirit Island is a high-strategy game with a ton of variety, player choice, and replay value. It's a game for three or more players.
Spirit Island is one of the board games that come with a lot of different card games and components, including four map tiles and an invasion board.
The cards are of good quality, and the tokens and pieces are made from cardboard or plastic, except for the Dahan Huts, which are made out of wood.
The components are on the cheaper end, but they look good and serve their functions well. The artwork is stunning, and the game has a great table presence.
You work with the native Dahan and the other spirits to destroy entire cities, frighten the invaders, or otherwise impede their progress. The gameplay of Spirit Island is nearly impossible to divorce from its theme. The elemental Spirits have non-standard but fitting names.
Any player who can remove as many Invaders as possible, increase terror level, and remove fewer invaders in the game wins.
But wait – there's more, Spirit Island is a game of strategy and player choice. It was meticulously play-tested and pays off in spades. Spirit Island is a game that scales well with the number of players and is just as strong in solo play. It also works well at any player count, from one to four.
Spirit Island comes with four scenarios and three adversaries. The Kingdom of Sweden can sway the Dahan to their side, but also cause more blight and fine steel for tools and guns.
The players gain fear cards as they gather fear, and blight cards flip when the island gets a certain amount of blight. The game only comes with two blight cards; the only unknown is where the Invaders will explore. It can be predictable, and the last rounds feel stale. Spirit Island has two expansions that address these complaints, but the time limit is not strict and feels anti-climatic.
7. Scrabble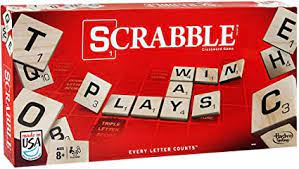 Let's talk about scrabble; The 5,000 years old board game that never gets old…
Researchers found that Scrabble players used a different part of the brain than non-players during a visual word recognition task, which means that playing Scrabble could be beneficial for people with neurodegenerative disorders.
Think about it, in this day and age, it can be difficult to focus, especially as adults laden with loads of responsibilities and distractions in a noisy world.
Moreso, you are used to multitasking and processing information fast. To counteract this, you should try doing more activities that require you to focus for a long period.
It is a popular board game that keeps adults learning and showing off their word skills. It's also a great family board game. Set up is quite straightforward. Each player must have seven letter tiles and a pen and paper for calculating scores.
The board game Scrabble is a classic word game where you have to make words with the letters you have. The player with the highest score at the end of the game wins.
The components quality and material of Scrabble greatly vary depending on the edition, year published and country you bought it. The letters are durable and the game has a pouch to keep the letters mixed and secret.
You can play Scrabble with only two if you just want to chill, but if you choose to play with four people, that is also fine. You need to make as many points as you can by playing words, and special squares in the board grid have multipliers that increase your points.
If you manage to use all seven letters to form a word, you get a bonus. Although it's a rare scenario sometimes life has its way of playing games with humans. So yeah, go for it!
8. Chess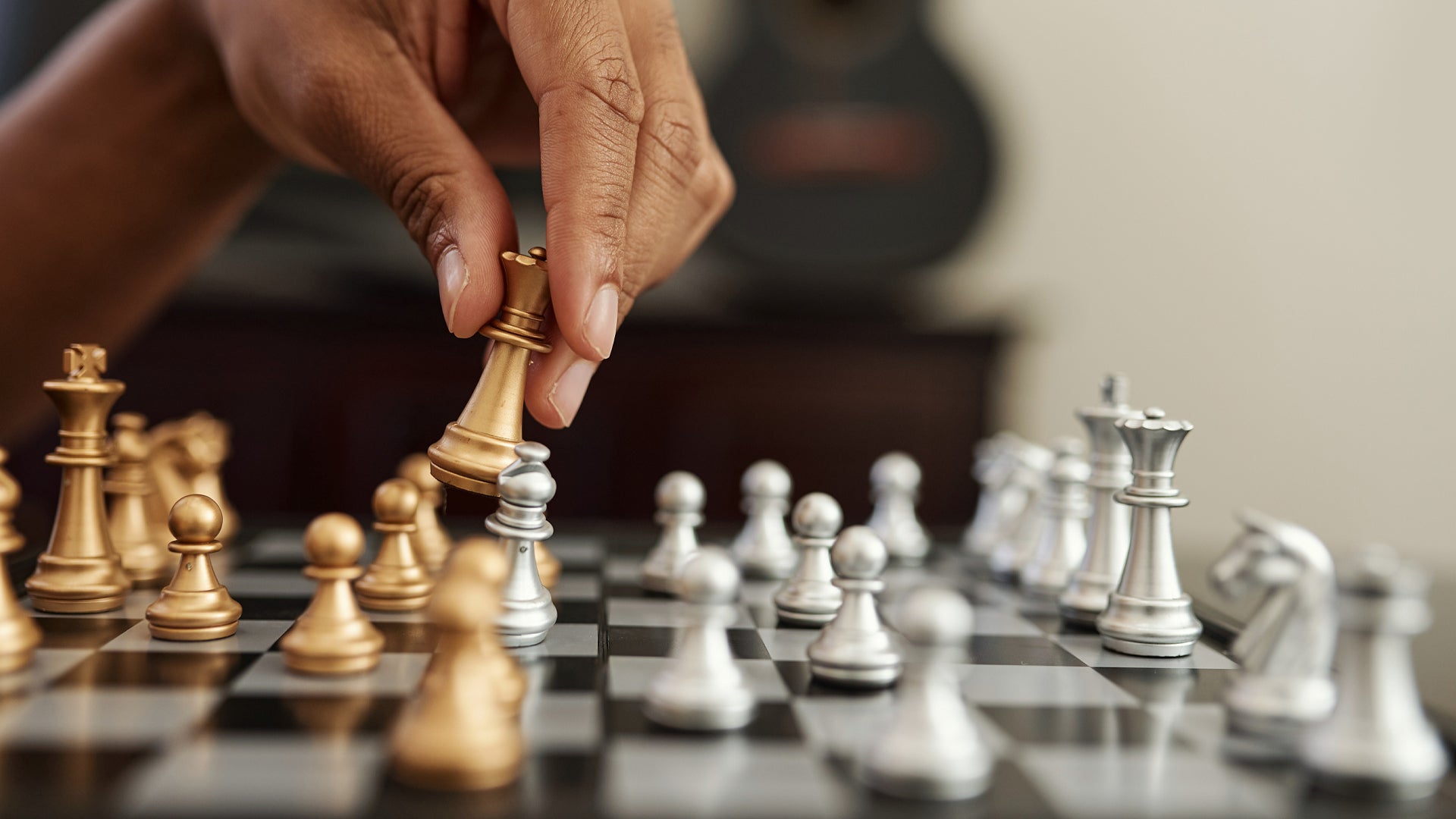 Over the years, this same game has never been played twice but in the end, we say "The king is dead". Chess is one game that sets adults on the competitive edge when they sit together to play. It is a board game for two players that originated in Spain in the 15th century.
It is now played by millions of people worldwide. Chess is an abstract strategy game played on a square chessboard with 64 squares arranged in an eight-by-eight grid.
The object of the game is to checkmate the opponent's king, and there are several ways the game can end in a draw.
The pieces are set out on the board in the following order: rook, knight, bishop, queen, king, bishop, knight, rook. Black's position mirrors White's, with an equivalent piece on the same file.
In this game, the king is more of the center of focus. The king can move one square in any direction, a rook can move any number of squares along a rank or file, a bishop can move any number of squares diagonally, a queen can move any number of squares along a rank, file, or diagonal, and a knight can leap over other pieces.
There's something else that is striking about this game: when a king is under immediate attack, it can be captured, interposed, or moved to a square where it is not under attack.
Also, because castling is not permitted, the object of the game is to checkmate the opponent's king, and it is never legal to put or leave the player's king in check. A game can be won in several ways, including checkmate, resignation, win on time, and forfeit.
Adults who've enjoyed playing this game, in the long run, concluded that you have to practice chess deliberately and often alone to reap the benefits.
In other words, chess can improve your intelligence, empathy, memory, planning and problem-solving skills, and creative abilities.
Is Catan fun for adults?
Catan board games for adults are fun and absorbing, and vying to build the biggest settlements is as exciting as it gets.  If you want to learn how human settlements develop, then you Catan board game is a good choice for you. Klaus Teuber released this game for adults in 1995 in Germany.
It's great for families, and the high-stakes emotions and intensity it elicits are part of its allure. Catan board games for adults create curiosity. It is a game for three to four players. It can be played by six gamers if you have a larger group who can team up.
The board games for adults are made up of 19 hexagonal tiles, each representing a different terrain.
The setup process for this game is similar to putting together a simple puzzle with multiple moving pieces, and each player takes turns placing two settlements and two roads on the board.
When a sum of seven is rolled, a player gets to place the "Robber Pawn" on any tile, which means no resources can be collected there until the robber moves.
The games help you to picture yourself in another age; an era of discoveries… after a long time, many days of being stuck on the sea fighting your way for your ships to finally reach the coast. So if you are curious about creating your own gaming experience, Catan is your go-to game.
What is the number 1 board game?
Board games are a great way to bring family and friends together for some quality time. But with so many different games on the market, it can be hard to choose one that everyone will enjoy.
If you're looking for a fast-paced, action-packed game that's sure to get everyone's adrenaline pumping, then Boom Again is a perfect choice.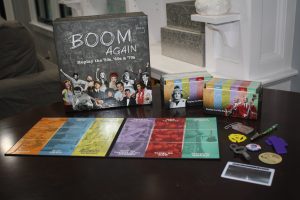 It is our number 1 board game because, the game is great for adults, fun to play, and gives a sense of fulfillment when played with two or more players, or in a larger group.
While the objectives and styles of other board games may differ, our top recommendation, Boom Again, was designed to suit each adult's concept and personality and the idea of fun.