The action of merely recalling information in the mind is super fun. Answering trivia questions challenges and shakes up your thoughtfulness. The best part about the best trivia board games is that you do not have to be great at trivia and have all the correct answers to catch fun.
When you go to a family game night or a party game event with friends and wind up playing trivia games, your mind expands and your memory refreshes as it recalls particular events, people, and locations from the past or present. You are simultaneously extending your social networks without even realizing it.
The truth is that certain simple board games are awkward and not particularly enjoyable to play. If you are not careful, after playing a trivia game, you may find that other trivia games are boring to you.
As a result, today we're going to speak about the best trivia games, and quiz games, and how to get the most out of your time playing them.
It's time to begin!
What is the best quiz board game?
If you looking for a bit of an entertaining and friendly competition in a board game, our first recommendation is Boom Again. Boom again is an awesome and unique trivia board game that will have you battling it out for trivia triumph.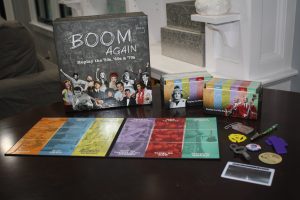 It's that choice kind of game that you can play over a cocktail with so much pleasure. This game takes anyone from a bad mood to a great one, cracking you up with fun questions and wonderful memories.
The questions in this quiz board game spur lively debates on vintage television, books, politics, and how things used to be. It'll remind you of daily items that are now obsolete.
Even the children appreciate the stories told while playing this game, and would be given the opportunities to win prizes based on gameplay.
There are plenty of question categories to keep you entertained, including; Things We Heard, Saw, Learned in School, In the News, On the Street (general knowledge), and Shout.
One amazing feature of a great board game is that it evokes floods of nostalgia and can make you long for love beads and the Beatles! and Boom Again does that, even much more… Boom Again was designed to be simply easy to learn and play.
This game is definitely where you want to be sitting with your friends and family, reminiscing the good old days.
What game is similar to Trivial Pursuit?
The trivia board game Trivial Pursuit is a lot of fun.  Answer trivia questions, trying to be the first person in each category to do it properly, is the game's straightforward objective.
Be warned how some questions in earlier Trivial Pursuit games may have purposefully included wrong answers. For instance, Superman may have been identified as a Marvel Comics figure when he is a Comics character.
However, time and time again, we have researched and found other interesting games similar to Trivial Pursuit that are beneficial for your gaming pleasure.
1. Boom Again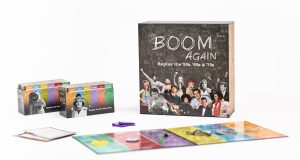 Brian Hersch, a seasoned game designer, most recently produced Boom Again. Featuring many questions from the 1950s, 1960s, and 1970s, Boom Again is a trivia board game. The objective of the game is to make you think back on things and zap you with nostalgia.
In Boom Again, there are about 2.200 trivia questions that are divided into 4 groups. Additionally, there is a fifth category that acts as a wildcard named "SHOUT."
The instructions for this board game are simple. This game would make you feel great to get together with friends and relive your experiences from the '60s upward. It's fun and a trip down memory lane!
The trivia questions in Boom Again are both challenging and fun, with fun questions that would spark great discussions and debates about old tv, books, politics, and how things were back in the day. There is a category in particular where you may have to sing a few hilarious tunes.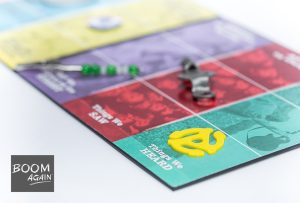 You can play Boom Again with two people or two teams of unlimited players. The first team to win three game tokens wins the match. It's during playing this game that you would realize that everything that you had going on to what your parents were up to is fair play in these questions.
It's a great way to expand your mind and remember what was going on currently around you in the world today.
Boom Again is a unique trivia board game different from other games because it is there are no time limits or buzzers, so you and your fellow players can take time to reminisce and take your time racking your brain for answers.
Something else to look forward to playing this game is that some questions will have you singing and dancing your responses, so don't be shy!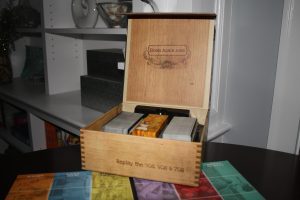 Boom Again is a trivia board game that is for an incredibly niche audience. The questions do not just test your knowledge, they will be wonderful reminders of the past and caveats for great conversation.
2. Geek Out!
If you enjoy playing a trivia game that encompasses games, comics, sci-fi, and fantasy, then, Geek Out is among a few board games that suit your personality. Geek Out with your buddies on a wide range of topics!
Geek Out! by Playroom Entertainment is a party game that puts players to the test with 205 list cards, 20 penalty chips and a six-sided category die. T
his trivia game challenges players to create lists of a certain length based on the criteria, and the player who drew the card gets the first dibs on claiming that challenge. Players can outbid each other to claim the highest number of items they can name.
Geek Out is not a traditional trivia game, as the cards list jumping-off points that can have legs. The number of the possible correct answer for each challenge will always grow with time.
There is something fun about board games like this, everyone has their strengths and weaknesses, and you'll enjoy this trivia game with a partner because the board game can even things out by giving you categories that exploit your weaknesses and by letting you bid to knock someone else down. Cool right?
People love Geek Out board games because, the types of lists that the movie trivia game challenges you to create are very well done, and you too will especially like the lists that ask you to name different characters or franchises that are related by a common concept.
Geek Out! is a fun party game where players create and bid on lists of nerdy items.
3. Mr Listers's Quiz Shootout
This is another of the best trivia board games out there, only difference is that this board game is similar to an old-school Western gunfight but with brains for guns.
Wondering why such an exciting game has a shootout? Here's a backstory… In the old West, Mr. Lister was a bar owner. He came up with a quiz as a means of settling disputes after growing weary of having his pub destroyed in fights.
Each player must provide a certain number of potential responses to a particular question. The person who collects all of the question cards and has the most right answer wins.
In other words, two or more friends gather in your saloon and one person plays Mr. Lister. They read the questions and the other team answered. Mr Lister reads out a question to both teams, and then it's shootout time.
The first team to fire off three answers, hit or miss, wins the card, and if it's a tie, everyone goes to the Last Chance Saloon. To choose who leaves with the card and the drink from Mr Lister's bar, both teams compete in the Impossible Question at the Last Chance Saloon.
Quiz Shootout is an updated version of the fast-paced trivia game Family Fortunes – with better questions that cover a vast variety of topics. The rules aren't exactly set in stone, so be prepared to debate your answer correctly.
3. Passport to Culture
This trivia board game is both educational and entertaining. Passport to Culture is another best trivia board game where players travel around the world and attempt to fill their passports with stamps by answering questions about the diverse peoples and countries of the world.
It is one of those exciting trivia games that stretch your cultural knowledge across the globe by taking turns rolling the die and landing on color spots.
Each spot presents you with another chance to expand your world knowledge. Passport to Culture is a game where you answer questions about different cultures to earn stamps and points. You can win the game by collecting all ten colors of passport stamps or by getting the highest CQ score.
A passport game with 318 question cards, 30 culture cards, 6 passport play cards, 60 color-coded passport stamps, 18 answer cards, 6 playing pieces, a die, a correct answers scorepad, and detailed game rules- (sounds like fun already).
It is a great game for anyone considering how it is well crafted and of high quality. Passport Card Questions are similar to the SCI or FI Files instructions. The questions are easy to read with a little difficulty in pronunciation.
Moreso, the game is easy to follow, gives multiple choice answers, and doesn't take too long to play. It also comes with multiple ideas on how to "end the game".
It is a great way to learn about other cultures and a superb learning tool for international educators.
4. Timeline
This game is more of family gameplay. It is in the class of best innovative trivia games. Here's why!
Would you be amused when asked questions like "Before George Washington crossed Delaware, was the pencil invented?" Well, You should!
That,s because this and many more features of the game are why it is an immensely entertaining educational trivia game. For instance, You must determine the dates on each card to determine when each event occurred. Each card features a different invention, historical event, or other events.
Timeline is a fun and creative spin on trivia games that involve putting historical events in the right order by putting down cards.
It's a compact game that's perfect for taking on a trip. Each player is given a hand of double-sided cards, and they aren't allowed to see the year the event took place.
The game starts with a first card being dealt to the center of the table, and each player places a card to the left or right of this card according to where their event fits on the timeline.
The game aims to play all the cards in your hand before the other players do. But the margins get narrower as you play more cards.
This revolutionary gameplay makes historical knowledge acquisition simple, enjoyable challenging, and very refreshing. It's one of the best trivia games that is seamlessly combined to create engaging and difficult combinations.
Timeline is a great alternate take on the trivia genre that can also draw in players who normally don't like fact-based trivia games. It can be played in only 15 minutes and is a solid choice to start the game night with or to play when you only have a limited amount of time.
5. Conspiracy Theory
Conspiracy Theory Trivia Board Game is a fantastic game primarily designed to test your knowledge of the world of the Internet. It is the most suitable game for family and friends.
All you need to do is answer questions to collect conspiracy cards but beware of Cover Ups to win the game.
It is one of those board games that give you the feeling of being at the scene of the actions. It is a game where players take turns as Agent Mulder and try to create a theory that explains a conspiracy involving twelve Tigers going missing from 12 twelve different Zoos.
The "game" is more of an improvement to other conspiracy-related games before it, with evidence cards that read like a keyword search of every episode of the X-Files. The game also throws in some strange evidence cards, including "Alex Jones", and a suspect voting mechanism.
This scoring system leads to the worst sort of kingmaking because the action you just took can literally have zero impact on if you score a point or not. Also, the 30 seconds to free-form a conspiracy theory in your mind might not be enough time.
Therefore, instructions are included for a variant mode called "Jose Chung's Conspiracy Theory", where all players recount a story linking two evidence cards, telling what they witnessed. Jose Chung weaves all of these wild stories into a single narrative to explain a Conspiracy.
This game has a laundry list of ways to smartly out win other players, but provides some laughs and gets its fair share of requests to play it.
6. Smart Ass
If you've read to this point, then you can be most certain of getting one or more of these best trivia board games as your favorites. Let's talk about Smart Ass…
It is a good trivia board game to have fun while playing. The trivia game is suitable for parties and large groups. It involves trivia and humor and allows all players to shout the answers out.
To play the game, a colored die is rolled, a clue is read out, and players shout out the answer. The first player to get into the center of the board becomes the Smart Ass and the winner.
You'd be surprised that even a "dumb ass" can win in this fast-paced party game because it doesn't require any specialized knowledge.
It comes with the following: a game board, eight "Smart Ass" playing pieces, 490 questions, a jumbo category die, a jumbo movement die, and directions.
It's one of the best trivia games designed to entertain and be educational. It is a game for 2 to 6 players, where the oldest player asks the first question and rolls the dice to determine the category of the question. Players have to think fast because the first one to say the correct answer advances on the board.
This trivia game is relatively quick. To better understand how it is played, avoid reading from the wrong category, you'll organize the cards beforehand and give players as much time as they need to make an educated guess.
Every player will be able to answer their fair share of questions, and the game is as entertaining for any kid as it is for the rest of the adults.
One great feature of this game is that it is a game that makes the most of your collective brain power with topics ranging from history and geography to literature, pop culture, and food. Smart Ass is a quick and exciting way to inject life into a party.
Is Half Truth a fun game?
Many people have asked, "Is half truth a fun game?" It is absolutely enjoyable!
Half Truth is a trivia board game that takes on that hybrid of party trivia. It's designed by Richard Garfield (Magic: the Gathering, King of Tokyo) and Ken Jenning (Jeopardy legend), and features high-quality components and a tactile feel for handling the chips.
This trivia board game is a three-round trivia game that awards more points the further along the track a player is. The Board game is a great game, quick and engaging, with the push-your-luck aspect giving a solid risk/reward element that benefits knowledgable players without kneecapping inexperienced ones.
This trivia game comes with 500 trivia question cards. Each player has to place bets to ensure answering questions correctly.
If you are someone who doesn't play trivia games often and is excited to try something new, the Half Truth trivia board game is highly recommended. To catch a more classic game groove, play Half Truth with at least two other people.
The learning curve to playing the Half Truth trivia game is pretty short and the rules are easy to follow. The whole gaming experience will sharpen your trivia knowledge.
Then again, Half Truth is a trivia board game that depends on your fellow players' experiences. If you are lucky enough to have a partner who enjoys geography-related and film-related trivia questions, it'll be much more fun. Among other trivia board games, this one's special roll will make you think, and the answering questions chips feel like dealer chips at a casino. The trivia game cards come already shuffled, so you do not have to constantly shuffle a deck of cards.
So yes, half truth is a fun game. It is a humbling trivia game that would be more fun to play with more people.
Is Trivia Pursuit still popular?
Popular trivia games like Trivia Pursuit make you look like the king of any trivia board games out there.
It is one of the many trivia board games where players try to answer questions about history, pop culture, science, art, literature, sports, and more.
The object of Trivial Pursuit is to move around the board by correctly answering trivia questions. There are six categories of questions, and each category has its color.
Here's one reason why Trivia Pursuit is still a popular board game; it doesn't require you to get one question right from every category to win the game.
You can tailor the game more to the topics you know the best instead of hoping to luck into a question you know from a category you know little about.
There are many editions of the game, including the Master, Genus, Classic, and Family editions. If you want to play as a family, that's fine. Trivial Pursuit is a trivia game that can be enjoyed by baby boomers, millennials, and everyone in between.
Final Thought
The best trivia board games are great for couples and family hangouts, picnics, get-togethers, and parties. They can be a great way to start a friendly, business, and even a romantic conversation. Trivial questions are focused on history, events, sports, academics, and animals.
Plus, it's a great way to strike an educating conversation with your kids, and impart them with knowledge of the past, present, and future. This is why trivial board games like Boom Again and others are suitable for both kids and adults equally.
Are you looking for entertaining and educational trivial board games? This article has just painstakingly done an in-depth guide for you. Starting with Boom Again, try any of these trivia games listed here, and have fun playing them.